Top 10 Harem Anime Where Mc is an OP Transfer Student!
This is going to be a list of Harem anime series that takes place at a school or academy and where the MC is an op transfer student. This is a great combination of two or three anime genres that no one can argue about its epicness.
So welcome back to Anime Mantra, today we will show you the top 10 harem anime where the main character is an overpowered transfer student.
Let's start with the countdown.
Here are Top 10 Harem Anime Where Mc is an OP Transfer Student:
10. Maken Ki ( Action, Ecchi, Harem, Martial Arts, School )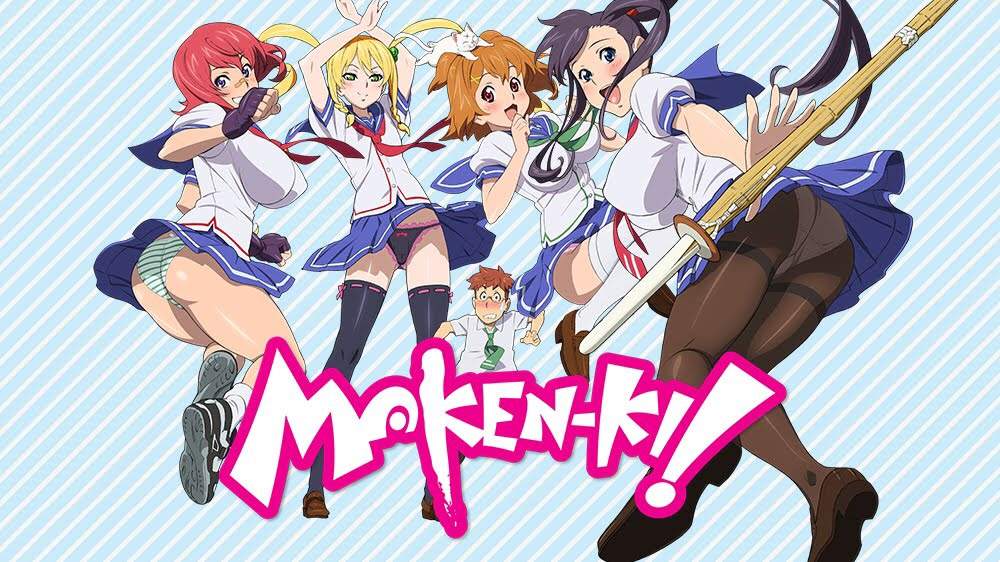 This rom-com harem magic anime follows Takeru Ooyama, a pervert transfer student his new school doesn't require entrance exams and it just became co-educational.
Unfortunately his dreams of a happy high school life are crushed when he figures out the school is much more than it seems all of the students possess a special
item called a Makens, that allows them to unleash their magical powers in duels.
Even while trying to fit in at a new school and dealing with all kinds of girl problems.
The plot of Maken Ki has a decent hook and I was interested in seeing where it was going but the second season just dropped whatever plot the first season built up and the rest of the series just feels like one filler episode after another, so I'll recommend everyone to just watch the first season only.
9. Hundred ( Action, Sci-Fi, Harem, Romance, Ecchi, Mecha ) 
Hundred is a magic school harem anime that revolves around a weapon that can counter the mysterious savage life form attacking mankind.
Hayato Kisaragi is a survivor of savage attacks. Successfully he enrolls in the marine academy city ship little garden during the process of his intense training for the battle ahead.
He immediately attracts the interest of multiple females also he gets drawn into a number of incidents. As he tries to fight against the creatures that now live on earth and threaten its safety.
Ultimately hundred is a generic action and harem anime however it stands out as a crowd pleaser due to its well-developed characters and the predictable love triangle between the main characters the character design and great animation make the series fun and entertaining to watch.
8. Unlimited Fafnir ( Fantasy, Romance, Seinen )
This is one the best harem anime in list where the MC is an op transfer student. This anime takes place at Midgar, which is an all-girls school that recently accepts its first and only male student Yuu Mononobe.
But Midgar is not only an all-girl academy, it's also a school exclusive to a group of girls who have extremely powerful magic abilities in generating dark matter and manipulating it into powerful weaponry.
These types of girls known as "D" only appeared after the appearance of a number of mysterious destructive monsters known as Dragon.
Some of these girls are born with  symbols on their bodies and powers similar to the dragons Yuu is the latest member and is so popular for being the only known male "D" in existence.
Unlimited Fafnir is an anime that places some emphasis on the ethereal entity known as memories. Memories aren't facts learned or knowledge acquired, there are events precious happenings that we remember and look back on with glee at least the good ones.
7. Aesthetica of a Rogue Hero ( Action, Super Power, Ecchi, Fantasy )
This harem anime follows several young school girls and boys who regularly transfer to a world of sword and magic called Alayzard.
Those who survive and return to their homeland are typically gifted with magical abilities an international training organization known as Babel, protects these youngsters and trains them to properly use their powers.
Akatsuki has come back to his world long with the gorgeous girl Myyu who is the daughter of the last dark lord whom he defeated in battle.
As a result, Akatsuki and his new friends must protect Myuu while trying to hide her true identity.
The reason why this makes a space on my list is mainly that it's funny and it's so dumb it makes me laugh.
Warning if you don't like fan service this is not for you but as for storyline a wet mop has more  plot in it and there is not much character development that being said if you want a good laugh a different kind of romance anime then you might give it a try if you can stand all the frontal nudity
6. Code breaker ( Action, Comedy, Super Power, Supernatural, School )
While riding the bus one day Sakura Sakurakoji looks out the window to see people being burned alive by a boy named Rei Ogami.
Ogami is a code breaker one who does not exist he is a seemingly cold-blooded killer who follows the principle of an eye for an eye to use evil against evil. Sakura will then focus on trying to stop supernatural assassins from killing morally corrupt people.
The action and abilities used by the characters are amazing and has a wonderful storyline.
It has an anti-hero type feel to it but leaves you wanting to watch more it is an anime for anyone who loves action and wouldn't mind reading the manga to finish the story not that you have to.
You may also like: Top 11 Best Girl Sports Anime
5. Chrome Shelled Regios ( Action, Adventure, Fantasy, School, Sci-Fi )
This is a school magic anime that depicts that the world of tomorrow is an arid wasteland humans live in large mobile cities called Regios.
To escape the threat of filth monsters in this, future humans must learn to use special weapons called Dite, to counter this phenomenon at the academy the mysterious Layfon struggles to keep his violent past hidden from his fellow student soldiers.
Unfortunately his previous life might be impossible to still hide and the truth could tear his team apart this show offers a nice balance of action seriousness.
To comedy fan service, so many viewers might like this particular anime. Chrome Shelled Regios is one of those anime, that I watched without real interest the art is good the animation is fluid so these points make this anime watching worthwhile.
4. Trinity Seven ( Action, Harem, Comedy, Supernatural, Magic )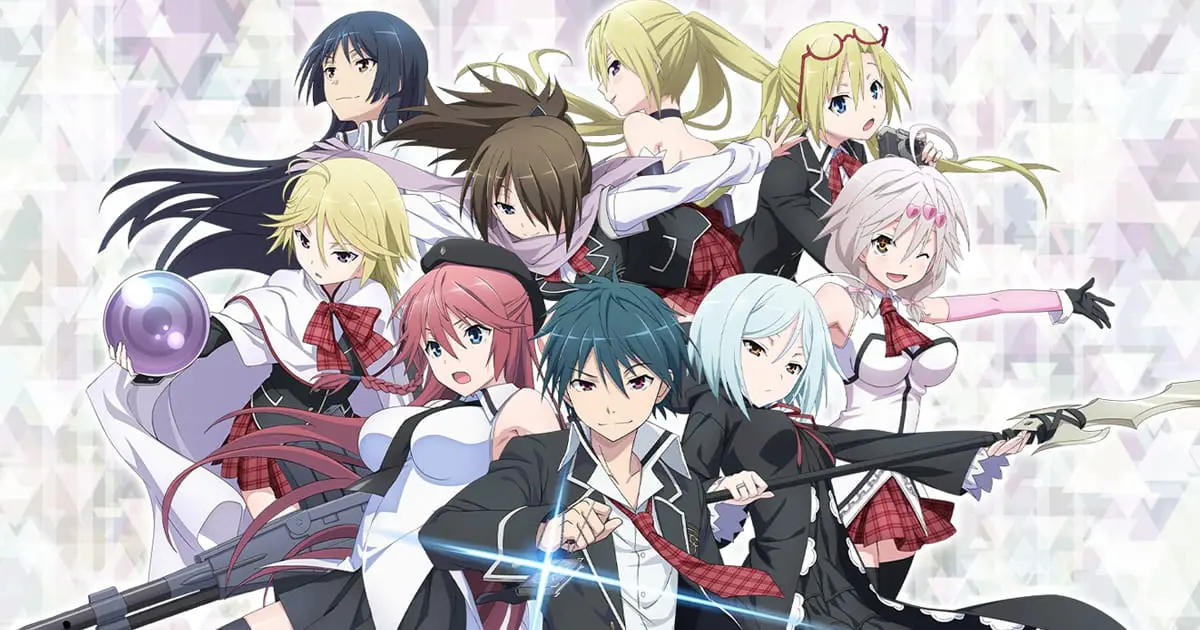 In this harem school magic anime the MC is an op transfer student. The story focuses on Arata Kasuga, who suddenly sees his life wiped out by a bizarre incident known as "Collapse Phenomenon".
This phenomenon causes a worldwide destruction and takes his cousin Hijiri Kasuga to another world. To solve the mystery of the collapse phenomenon and bring back Hijiri, Arata enrolls in the royal Biblia Academy.
Hence in this academy there are seven beautiful female magic users who will help Arata in his mission.
One of the strong points about this anime the characters are all very likable and well made there is sufficient character development that you feel for some of the characters and get to know them a little bit more than in some other anime.
If you're a fan of fan service then you probably won't be disappointed, the music isn't too shabby with a strong overpowered and interesting selection of 5 ed's but take away the music, the attractive character designs and the ecchi and Trinity Seven sadly seems little more than a rather ordinary and undistinguished fighting fantasy.
3. The Fruit of Grisaia ( Drama, Harem, Psychological, Romance, School )
This anime takes place at the Mihama Academy which is a prison like school it's home to five female students who each have their own reasons.
One day Yuuji Kazami is the MC is an op transfer student who has just been admitted into Mihama Academy.
Yuuji just wants to live an ordinary high school life, but this dream may not come true as this academy is quite the opposite the institute's first male student arrives and throws the orderly rhythm of Mihama off balance.
The synopsis does little justice for the actual story within the anime.
The story gets much more rich as you continue watching this anime also touches upon serious topics which is probably why most people rate this anime so low, pain, death, rape you could practically find it all in Grisaia.
This anime has  comedy moments and some ecchiness too but it doesn't draw away from the serious tone for which this anime is meant to be focused on in the beginning Grisaia no Kajitsu may seem like a typical harem like high school dxd for instance.
But it quickly moves straight to its gripping storyline harem with a good plot.
This anime is precisely that now to put the story into simpler terms Grisias no Kajitsu is divided up in five arcs each arc focuses on one girl and how Yuuji Kazami helps her.
2. Isekai no Seikishi Monogatari ( Action, Comedy, Ecchi, Fantasy, Harem, Mecha )
This is one the most watched harem anime in which the MC is an op transfer student.
This magical school anime depicts Kenshi Masaki as he mysteriously teleported from earth to a world called Geminar, where finding male mecha pilots is extremely rare in order to return home Kenshi must pilot a mecha suit called a Sacred Mechanoid and assassinate the ruler of the Shtrayu Empire, "Lashara".
However Kenshi finds himself prisoner and an object of study by Lashara and her mates after learning of Kenshi's situation Lashara asks him to enter her employ he will act as her servant practically a slave but also have more chances to pilot a mecha suit.
Isekai knows that Seikishi Monogatari may have a handful of good scenes and concepts, but it's a bit of a disappointment.
Overall the series suffers from being a member of the harem genre failing to adequately develop its potentially strong character personalities.
And all together, you should watch this anime because there are many moments that will leave you with a pleasant memory
1. Demon King Daimao ( Action, Harem, Comedy, Fantasy, Magic ,Ecchi )
This action harem comedy magic anime  follows one of the most promising op transfer students in the Wizard Academy. His name is Akuto Sai who takes a career assessment test and the results say that he'll become a demon king.
The students treat him differently after this, moreover, he is surrounded by a harem of beautiful girls who each have their own plans for him with his newly awakened powers.
Akuto must cope with this constantly growing list of misfortune and fight to prove that, his fate is not to be evil overall demon king Daimao.
It is really enjoyable to watch but this anime is a perfect example of why it's so difficult to make a good anime in just 12 episodes.
The plot was mediocre and there were a lot of confusing holes in many of the scenes that never get answered.
On top of that, the character build was minimal but they did what they could with the short amount of episodes in the season not to mention this anime is legit a soft core hentai so be warned.